Outdoor Christmas Lights
When I was a child, outdoor Christmas lights were something special because they were rather expensive and rare. To us kids they were something out of a fairy story. A reminder that Christmas was close...




And after Christmas we tried to reach the wonderful feeling of the holidays by looking at those lovely little lights, imagining how it would feel like if Christmas suddenly came again.
The lights appeared only a few days before Christmas and were taken away shortly after New Year. But now things have changed - people tend to keep the outdoor christmas lights twinkling for months.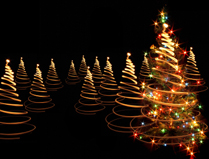 When in the past there used to be only white or yellowish lights, now you can find lights in every possible color. One of my favorite Christmas time sceneries here is a group of fir trees that have tiny blue lights (slightly violet), in front of an old people´s home near where I live. It is an absolutely magical sight.
Here is a short story starter about those magical Christmas lights. I hope it brings back your good Christmas memories - or hilarious ones. It´s all up to you. You can use the starter as it is, modify it or write a completely new beginning once the words start flowing. These few sentences here are just to help you start writing.
And do share what you wrote (use the form underneath) - I for one love reading other people´s short stories. And I know the people who visit this site love stories too - otherwise they wouldn´t be here. So you can be sure you already have some readers waiting for your story.

---

I heard the neighbor doing something inside his garage and moved in closer. After all, he had been talking about having a garage sale and I had my eye on the baseball gear left by his son when he moved out to another city.
He had lifted some boxes out. They were on the lawn, in the midst of the flowers that were blooming in the late summer evening. And then I saw what it said on the boxes.
- Oh no... Not already!
Outdoor Christmas Lights. It was written in big black letters on the boxes.
As last year´s memories came back I knew something had to be done...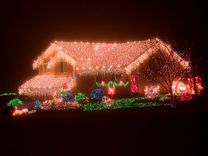 ---
Looking for Christmas coloring pages? Click here!
---
The Story of Outdoor Christmas Lights
Do you have a great story to tell about the sure sign of Christmas approaching - the outdoor christmas lights? A funny, crazy or touching story (or all of these)? Share it! You´ll be given full credit for writing it if you choose to share your name.
What Other Visitors Have Said
Click below to see contributions from other visitors to this page...

No Bells Ringing Not rated yet
No Bells Ringing by Pat Jeanne Davis www.patjeannedavis.com "It's beginning to look a lot like Christmas." The words coming from the Church …
Subscribe to Inspirational Short Stories Newsletter
Back to Homepage from Outdoor Christmas Lights

Back to Story Starters