Painted Hearts

This photo of painted hearts was taken at an old store. It was a lovely sunny winter day with a promise of spring. The kind where you for the first time can feel the sun actually warming your face.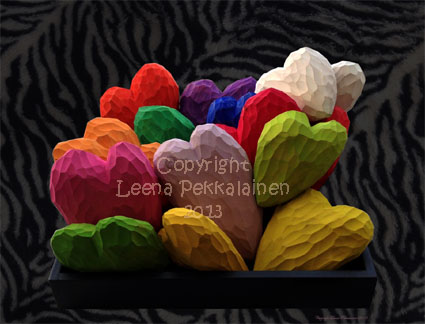 I had time in my hands, so I walked into this store to have a look what they had to offer.

By the window was a wooden tray full of these endearing color hearts.
I looked at them more closely and realized they were made of wood. Carefully carved by someone, leaving them looking a bit crude, and then painted with the most delightful colors. They were simply adorable.
And again they made me think what they might symbolize. Can you guess?
| | |
| --- | --- |
| | Well us, of course. People, with all their differences and beliefs and values. All different, all unique - and yet, all the same. They all share the same basic shape, even if the details are different in each and every one. |
And all of these color hearts were just as valuable and lovable as the next one. People would pick them, one by one according to their own preferences, until the tray was empty. Maybe someone would take a heart they did not quite think was the right color, if the color they wanted was not there. And maybe they realized later the heart they chose was just the perfect one.

Imagine these hearts are the people around you. Value each individually, give them permission to be who they are, and you will realize the world is a much more interesting place because of our differences. And just like these hearts - despite the differences they all fit in the same box.
Now there's a lesson there somewhere, don't you think?
Back to Homepage from Painted Hearts