Planting flowers
The Day the Flowers Went Walking
This is a real story - told to me by a coworker after planting flowers in her garden. If I didn´t know she was a sane person, I would have never believed... And yes, it has to do with animals.
---
- Strange that our new neighbor doesn´t want to talk much to us… Marianne said pensively over her tea mug, - I talked with him about planting flowers the other day. And now every time he sees me he seems to be… well, avoiding me almost.
- That´s strange, I reached for a bisquit, - Didn´t you say he was into gardening just like you? You gave him advice on planting flowers, if I remember right. - Yes, which makes it all the more strange.
- So what did you tell him?
- Let me think… Well, in the morning we were planting flowers in our garden... Beautiful yellow and violet pansies.
- Ah yes, pansies, you love them.
I remembered Marianne´s beautiful garden. She and her husband spent all their free time there and it showed. Their garden had been featured in a garden magazine a few years back. Great cause of envy in a small village - resulting in the whole village planting flowers in the hopes of the reporter returning one day.
- So in the evening, after we had finished the flower planting in a new flower bed, we sat down on our porch to admire our garden. You know how the light is so amazing in the evening: brings out the violet hues perfetly. This year we have lots of violet and blue flowers.
I nodded to show I knew what she meant.
- We were sipping juice and then something caught my eye. Something moving. I turned my head and saw one of the pansies walking on the lawn.
I spluttered tea out of my mouth.
- You… saw a flower walking on the lawn?
- Yes, Marianne nodded.
- And it was only juice you were drinking?
- Yes, of course, why do you ask? Anyway. I did think that either there was something wrong with my eyes or I had gone barmy. Especially when John didn´t seem to pay any attention to it.
She drank her tea, dipping her bisquit into it, in no hurry to continue with her story.
- Well? Where did the flower walk then?
- Oh, yes, quite… she collected her thoughts, - It walked across the lawn and disappeard under the playhouse. You know - the old playhouse we haven´t had the heart to tear down even though we don´t have children. It looks so cute.
They had bought their house from an old couple whose grandchildren had used the playhouse. No one had been planting flowers around the house before them - and the playhouse was also now almost covered with rambling roses - Flammentanz I think it was. It made the playhouse look like something out of a fairy tale.
- So. You saw a pansy walking across the garden and disappear under the playhouse. And you told this to your neighbor?


- Yes.
- And now you wonder why he doesn´t want to talk to you?
- Yes, strange isn´t it? Well - actually I told him I saw a lots of pansies following the first one. The fun point was they were all yellow. None of the violet ones walked.
- Ahha… Marianne… Have you been out in the sun too much?
- Oh no. You think I was seeing things? That I had a sunstroke or something?
- Well of course I do! You see flowers walking around the lawn, tell about that to your neighbor and wonder why he isn´t talking to you? He thinks you´re mad! And I am beginning to think along those lines too.
- Oh, really? Well, come to think of it, you may be right. I don´t mean that I was mad but that he could think so. Hehe - quite funny really.
Marianne laughed quietly.
- And John didn´t see anything? I wanted to know.
- Well when the second flower started walking across the lawn I noticed he was sitting a bit stiff. You know - he wasn´t drinking his juice anymore. And he loves his strawberry juice so that told me all was not ok. So I asked him if he was seeing the same thing as I was. He asked me what it was I was seeing and I told him. He was very relieved he wasn´t crazy - he was seeing the same thing. But you know it was kind of scary. Watching all your yellow pansies walking from the flower bed and disappear under the playhouse. For a while we just sat there, wondering if we had entered Narnia or something.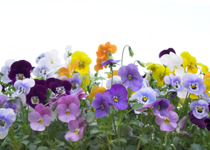 - Well did you find out what the whole thing was about?
- Oh yes, Marianne laughed out loud now. We quietly sneaked into the lawn when one of the flowers disappeared under the playhouse again and tried to get as close to it as we could. And then a tiny thing ran out from there. It was a mole! It headed straight for the pansies, not paying attention to us, and we saw it take another flower and head our way. We looked under the playhouse and there they were - all our yellow pansies. John said the mole had to me male.
- Male? Why?
- Well if it needed to carry so many flowers, it had obviously done something really bad and needed to make up with the spouse. And females don´t usually bring flowers in such situations, do they? So it was simply Mr Mole trying to get into talking terms with the wife again!
- And did you tell this to your neighbor?
- Err… No, I didn´t get to the end of the story because the cell phone rang when I had told him I had seen flowers walking and when I had finished the call he had disappeared.
- You might want to go and explain things to him.
- Yes, maybe I should do that.
- Yes, you do that.

---
Subscribe to Inspirational Short Stories newsletter


Looking for animal coloring pages? Click here!




Planting Flowers © Leena Pekkalainen
image copyrights in order of appearance:
isolated viola / pansies / © iStockphoto.com / Liliboas
viola isolated on white / © iStockphoto.com / valda

Back to Homepage from Planting Flowers
Back to Animal Stories from Planting Flowers