A Short Love Story
All Is Fair in Love
A good short love story - how can you not love them?
So here is a short love story to tell you all is fair in love... I love this particular story - for a good reason.

- One way ticket? You are going to move into town? the young man asked.
He could not get his eyes off the pretty young woman sitting in front of him in the train.
- No, the young woman in question said.
She knew the young man had a crush for her. Women just know these things. They had been sitting in the train for hours, face to face. At first they had just nodded to one another, and then the young man had introduced himself politely. She was not the kind who wanted to talk to strangers, but it really wouldn´t matter after a few hours. So she had started talking with him.
- Oh you haven´t decided yet when you will return? the youth did not want to leave the matter be.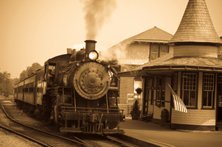 - I won´t, she said.
- Are you going to a factory to work, then? he persisted.
- No, she said, - My sister invited me to America and I am leaving tomorrow morning, she continued.
- Oh...
The young man had not expected this. Of course the times were rough and many people were traveling to seaports to take the ships to a hopefully better future across the ocean. But he just hadn´t thought anyone as young and innocent looking as this girl would do so.
- I have heard it is not always very safe to go, he tried.
- I shall meet others at the harbor, the girl said with a voice that said the conversation was over, - I shall be perfectly safe!
At that the young man fell quiet. The girl closed her eyes and pretended to be napping. He had good time to watch her. Pretty, slightly round face, shiny brown hair. And even though he could not see the eyes now, he knew they were the color of the morning mist - grayish blue. She had pretty, small hands and a slim figure. You could see from her clothes she was not wealthy, but everything was neat and clean. He realized he liked her very much. Very, very much.
The girl opened her eyes and found him looking at her. He coughed, embarrassed that he had been caught.
- I need to...go... she said modestly, - Do you think you could keep an eye on my bags?
- Of course, Miss, he said and she left.
When she came back she found him asleep. She shook her head and sat down. Her wooden coffer was under the seat and her smaller bag was... Nowhere to be seen!
He opened his eyes when he heard her scared exclamation.
- My bag! Someone has stolen my bag! You promised to look after my bags!
The young man looked scared. He got to his feet and got out of the compartment. The girl frantically looked at every corner and shelf, under all the seats, to see if she had just put her bag into a wrong place. But it was nowhere to be seen.
- Is it this one? the young man held a bag in his hands, - I found it in the corner of the next compartment.
- Yes, yes it is! she grabbed it quickly and opened it, - My purse... here... yes, it is here... My papers...
She sat down, looking like she was going to faint.
- My passport! Someone has stolen my passport!
- Oh no, the young man said, - I shall go and ask everyone if they saw anything.
He came back after half an hour. The girl looked at him hopefully. He shook his head.
- Nothing. No one has seen anything, and none of the people look suspicious. Ordinary, decent folks, all of them.
- My passport... Now I cannot leave! she burst into tears, - Who would only take my passport and leave my purse and all the money? This makes no sense!
He sat next to her and took her hand to console her.
- Please, Miss. You can get another passport.
- But it takes forever! I cannot get to this ship! My sister is waiting for me to arrive with it!
- Write a letter explaining you will come later. Give the letter to someone who is going to that ship and can take it to your sister in America.
Slowly she calmed down.
- I shall help you to get a new passport, because it was my fault it was stolen, the young man said, - I can never forgive myself! The first thing we shall do is to go to the police to report the theft. At least they can check if anyone is trying to use it tomorrow.
She did not say anything but gave him a faint smile. He felt her passport in his inside breast pocket. He would need to get rid of it as soon as possible.
He looked into her grey blue eyes and smiled so tenderly she blushed.



Make personalized gifts at Zazzle.



---

This short love story was based on a real event. The young woman was my maternal great grandmother and the man became my great grandfather.
Her big sister had left for America earlier and written to her, inviting her over. The new land was so full of promise. Anyone could make their fortune there, her sister wrote. And she decided to go.
On the train my great-grandfather-to-be fell so in love with her he simply stole her passport to stop her from going. I do not know when he told her the truth, but I suppose by then they were already married. I have their engagement photo. It brings to mind the old saying "All is fair in love and war". And when I last looked at their picture I knew I had to write this short love story.
For me of course it was a good thing she did not go. I wouldn´t be sitting here writing stories for you if she had. Also her big sister disappeared in the great San Francisco quake in 1906. We have lately found information that she probably survived and married a Japanese man, but if my great grandmother would have traveled to America, she most likely would have lived with her sister in San Francisco. She might not have survived the quake and this short love story would never have been written.
Like here in this short love story - sometimes the love of our life appears when we least expect it. Sometimes we act on it, sometimes we don´t and wonder what might have been. I am not for stealing anything from anyone, but I have to say I am happy for my great grandfather's desperate act. At least he confessed later and was forgiven - their long marriage speaks for itself. And maybe this short love story is the reason I love trains.
---
Back to Homepage from Short Love Story
Back to Happy Together from Short Love Story
Subscribe to Inspirational Short Stories Newsletter
Looking for online coloring pages? Click here!
(You won't taken out of the Short Love Story page but a new window will open)