Hero Dog
a Real Life Story of a Puppy and a Cat
We all have heard stories where a hero dog saves someone from a fire, or from drowning or helps others in an exceptional way.
This little short story is based on reality - it happened to one of my coworkers. Or to their cat, to be precise.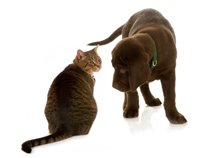 The puppy was so adorable everyone loved him. Everyone wanted to hold him and take him out and he charmed everyone by just loving them with his whole heart. Hard not to like someone who just loves you totally, isn´t it?
Well, hard but doable. The cat made it very clear she did not appreciate another pet in the house. She hissed and tried to scratch the little puppy - but the puppy just loved the cat anyway. He followed her anywhere, tried to play with her, tried to lick her. What a sight it was - the little dog trying to make friends with the angry cat. No amount of bad behavior from the cat could persuade the puppy not to love the cat.
The family figured the cat would never like the dog, end of story.
A few weeks passed.
Then one day they heard horrible screaming from their back yard. They ran to the window to see what was happening. They lived in the suburbs and so it took a while for them to believe their eyes. A real lynx was on their back yard - and it was just planning on grabbing their cat for lunch. The poor cat had no chance - it was screaming but had nowhere to run or hide. It would only be a matter of seconds and their cat would be dead.
And then the unimaginable happened. Out of nowhere a black lightning ran to the rescue. The little Labrador was only half grown but it attacked the big predator with all its might. It did not hesitate or stop to think. It saw its friend in trouble and did what had to be done. It was barking on top of its lungs, it was ready to bite the other to bits, it was intent on chasing the bigger cat to the ends of the earth. The family cat disappeared quicker than the eye could see. The infuriated lynx turned towards the hero dog.
The family opened the window and started yelling and the father ran to the yard. The lynx decided it was time to go and vanished into the woods.
And ever since that day the cat´s behavior toward the dog changed totally. Now it was the cat that followed the hero dog everywhere. When the dog lay down, the cat came to lick its face and wash it (what a sight, especially when the dog eventually became a lot bigger than the cat). They slept in the same basket - the cat between the dog´s front paws. They cat even let the dog eat from her bowl - and that is really something, when it comes to cats… It was obvious the cat considered the new family member now a hero dog.
(The children actually made a diploma for the dog that said it was a Hero Dog. Which, in everyone´s mind it certainly was.)


So what is the moral of the story? If ever anyone is kind towards you, don´t turn your back on them. They may not rescue your life - but their kindness can certainly rescue your day! Sometimes it can just be a matter of you not knowing how to accept kindness. It is surprisingly common.
So why not try to learn say thank you, when someone compliments you. If someone smiles at you, smile back or at least nod your head. And return the favor - that way it may be you who saves their day.
I used to have difficulties in accepting kind remarks and praise form others. I just mumbled something along the lines of "…twas nothing". Then one day I realized that if I did not accept another person´s compliments, I was not giving them a chance to "pay back" for the things I had done to help them. Not accepting their "thank you" meant I was leaving them in debt, in a way. They needed to say their thank you, and so good manners dictated I should accept their thanks.
I decided to learn to do this. The first time I said "You´re welcome" I felt all the world thought my words as phony. But no - I got a sparkling smile instead. That felt good. So the next time it was a bit easier. And these days I enjoy a thank you - when it is given sincerely. It feels like the energies flow nicely as a result of acknowledging the other person´s thank you. And what´s more: I learned to say "Thank you" myself. It feels so great to compliment someone for a good thing they did - especially when my words are accepted.
So say "Thank you" and "You´re welcome". Spread the kindness!

---
Searching for animal coloring pages? Click here!
Back to Homepage from Hero Dog

Back to Happy Together from Hero Dog

Back to Animal Stories
---
Subscribe to Inspirational Short Stories montly newsletter with the small form under the nav bars on the left.
---
Do you have a great story to tell about a heroic animal?
Here´s the place to tell the whole world about it!
Do you have a great story about a hero dog? Or any other heroic animal? Share it! Tell the whole story - and share a picture of the animal in question.

Lets give our animal friends credit for their wholehearted love for us.
What Other Visitors Have Said
Click below to see contributions from other visitors to this page...