Tired of Being Sorry
Many people one day realize they are so tired of being sorry all the time. "I´m sorry" is a phrase that many people use without even realizing they do so.


Many people like to use these kind people to make them do their job for them. To fix things. Children and adults alike.
And then one day you just sit there, so tired, and realize this cannot continue. You have to draw the line and start living your own life. You have to stop being sorry all the time.
If you have a story to share on this, you can use the short story starter here to get your creativity flowing.
Please share your story with others here - use the form under the story starter. You shall be given full credit for your story, if you choose to tell your name.
Perhaps there is someone out there just waiting for a little encouragement to take their life into their own hands. Your story may be just the thing they need.
You can use the starter as it is, or modify it or rewrite it completely when your words start to flow. Its only function is to get you over the difficulty of starting a story.

---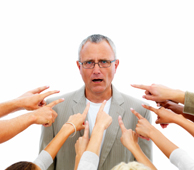 "Oh I´m sorry!" I said.
It was one of those every day moments. Someone had complained about something and I responded saying I was sorry. I usually did. And then I did what I could to make things right.
But today something felt different. My words echoed in my mind. I was sorry. Sorry for what? Sorry for something I had no control over in the first place but everyone expected me to do something about?
Good heavens! Thinking about it I sure seemed to be sorry about everything these days. Sorry sorry sorry. I was constantly reacting to everything like it was my fault! Asking for forgiveness from others by saying I was sorry! Now was I a sorry figure or what? Using all my energy in taking blame for just about anything and being sorry, having no energy left at the end of the day after running around mending things all day.
I felt anger rising inside of me. The feeling was so strong it took me by surprise. This was it. I had reached the limit. I was tired of being sorry all the time. Things would have to change!
I turned on my heels and...

---
Have A Great Story About Drawing the Line?
Tell here a story of someone who finally decided to take their life into their own hands. No more being sorry for everything!
What Other Visitors Have Said
Click below to see contributions from other visitors to this page...

Subscribe to the Inspirational Short Stories Newsletter
Back to Homepage from Tired of Being Sorry

Back to Story Starters from Tired of Being Sorry